How Bhumija Ayurvedic Hair Oil Helps in Reducing Gray Hair?
Posted by Admin Shoonyaakar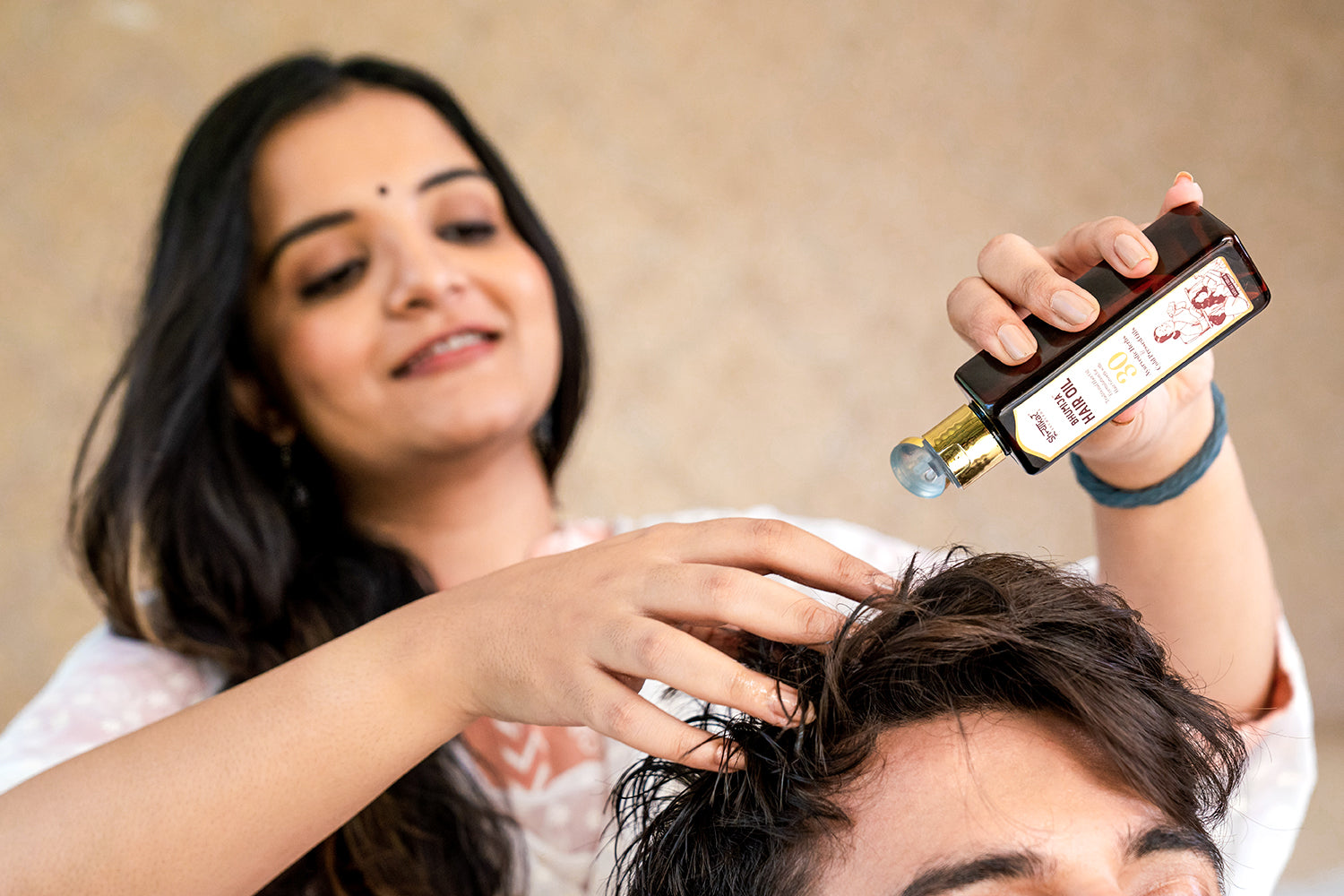 Premature greying is one of the most common problems among adults. While it may give you nightmares, it is important to understand that it is a natural part of the ageing process. Melanin, a natural pigment, starts diminishing as one ages. Millions of hair follicles lose their colour, resulting in grey hair. The reasons for grey hair are multifold. Dietary patterns, induced stress, genetics, medical conditions, vitamin deficiency, smoking, and usage of chemical products in your hair. 
To break the myth, dietitians and extensive research have proved that premature greying can be reversed. Altering certain lifestyle patterns can dramatically help in doing so. Let's take a deeper look at the causes of grey hair:

Dietary Patterns:

It has been found that specific nutrients have a significant influence on premature greying. For instance, studies show that a deficiency in iron, copper, vitamin B, iodine, and omega 3 results in grey hair, thus these nutrients must be consumed. On the other side, processed, refined, junk, or packaged foods may hasten the ageing process.





Induced Stress:

Norepinephrine is released into the follicle as a result of increased stress. The melanocyte stem cells are impacted by this chemical, which causes them to quickly differentiate into pigment cells and expel themselves from the hair follicles, resulting in grey hair.





Smoking:

According to a 2013 study published in the Italian Dermatology Online Journal, smokers had a 2 1/2 times higher chance than non-smokers of beginning to grey before the age of 30. (Source:

MedicalNewsToday

).





Chemical hair dyes & treatment

Chemical shampoos, hair dyes, and other hair products can hasten the greying of hair. Many of these products have dangerous components that reduce melanin. One such dangerous ingredient is hydrogen peroxide, which can be found in many hair colours. Overuse of bleaching agents will eventually turn hair white as well.
To cater to this problem, Bhumija hair oil is here as a solution. This ancient Ayurveda traditional hair oil is made from the goodness of 30 pure & natural herbs sourced directly from nature. These herbs are infused with cold-pressed oils, by balancing a perfect consistency of the oil. This chemical-free hair oil has properties that enhance hair growth, reduce hair fall, regulate dandruff, and reverse premature greying. Let's look at why Bhumija hair oil produces results:
1) Herbal Ingredients:
Ingredients such as sesame oil, bhringraj, ashwagandha, neem leaves, and giloy, all help in reversing grey hair through their natural properties. Finding these ingredients in one product is no more a hassle. The 30 organic and ayurvedic herbs included in Bhumija, ayurvedic hair oil for hair growth, are packed with nutrition. The oil is 100% natural and secure for your hair. Every ingredient in Bhumija serves a purpose, solves a problem and has advantages of its own. People typically struggle with issues including early greying, head lice, excessive hair loss, nutritional needs, and balding, which these herbs can help with.
2) Paraben-free:
The presence of parabens, chemicals, and minerals in your hair oils leads to grey hair. These products soak up the nutrients from the hair follicles, thereby reducing melanin from hair. To combat this issue, Bhumija hair oil is made entirely of natural ingredients using age-old techniques. According to the traditional formulation, the oil doesn't have any additional flavours or preservatives. This chemical-free hair oil is safe to use as it is free from parabens, silicons, and mineral oils. 
3) Ancient Formulation:
According to a traditional formulation, mineral and chemical oils are not added to the hair oil; it is manufactured entirely using natural ingredients. Each ingredient's concentration has been chosen after giving serious thought to its potential consequences. The entire experience of hair massages is improved by Bhumija's ayurvedic hair oil, which has been meticulously developed to ensure that only the necessary amount of nutrients reach the scalp and hair follicles. This ancient formulation stands true to its promise and does not damage the hair. This paraben-free hair oil ensures that no chemical is deposited on the scalp that can lead to white or grey hair in future. 
4) Other Advantages:
Our unique ayurvedic hair oil has a wide range of advantages. It does wonders for improving the hair quality and its growth. Castor, coconut, and sesame oils provide the dry scalp with hydration and nutrients, which controls and eliminates the dandruff issue. Additionally, the naturally extracted components can help with the common issue of hair loss. Bhringraj, brahmi, ashwagandha, giloy, red onion, and genuine based flowers are the main ingredients in decreasing hair loss and reversing premature greying.
Hence, to reverse premature greying, oiling is one of the most viable and safe options. But to get better results, it is necessary to follow a healthy lifestyle and to practise a proper hair care routine. Bhumija hair oil by Shoonyaakar Ayurveda brings ancient science to life and provides the best results. It is one of the best ayurvedic hair oil for premature greying. Try for yourself & see the magic!
Read More: