Why is Bhumija Ayurvedic Hair Oil The Best Hair Oil for Hair Growth & Hair Fall?
Posted by Admin Shoonyaakar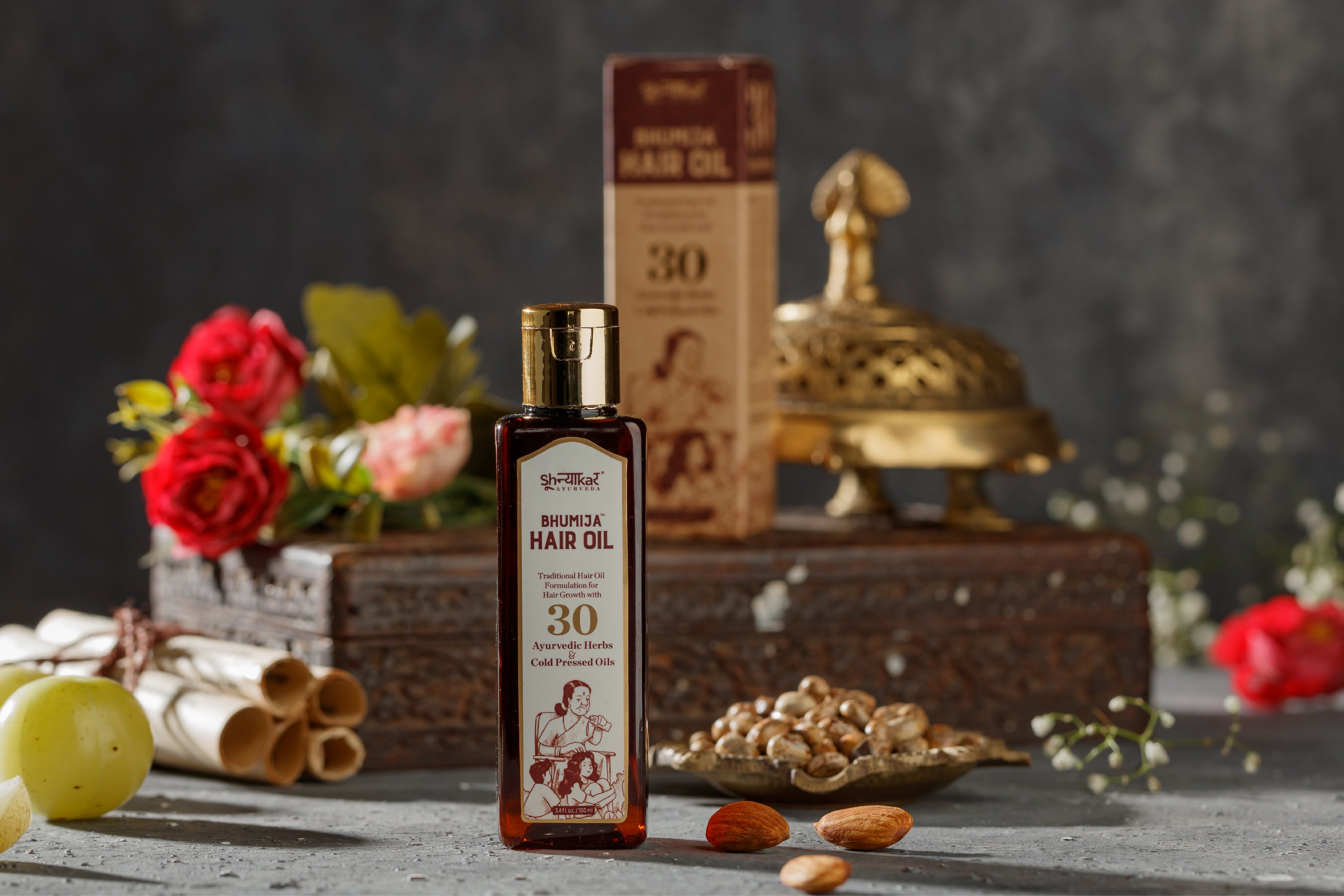 Hair oiling is one of the most sacred rituals practised in ancient India. It originates from a Sanskrit term "sneh", which means love. Oiling dates back to the ayurvedic era, when pure herbs were extracted directly from nature and used in a raw manner to avail the maximum benefit. Hair oiling, according to Ayurveda, is part of our daily practice, that one follows to promote good health of the scalp.
Despite the long history of ayurveda, over the years the use of chemical products has increased dramatically. As appealing as the products look, they're proven to damage your hair. The numerous problems faced by people include excessive hair fall, damaged roots, dry and brittle tips and dandruff. 
To cater to this problem faced by a large population, Bhumija ayurvedic hair oil was created. If you're looking for an extremely safe and effective hair oil, this is the one for you. Made from the goodness of 30 natural ingredients and cold pressed oils, this oil is an effective hair care solution for all your problems. It aids hair growth, reduces hair fall, and regulates dandruff. Moreover, it helps with premature greying which is faced by a lot of individuals, especially women. 
Let's look at few reasons why bhumija hair ayurvedic hair oil is the best hair oil for hair growth and hair fall:
Chemical Free:


Bhumija hair oil is a 100% natural oil formulated through traditional methods. A traditional formulation suggests that the oil has no added flavours and preservatives. No added substances that promise smooth and shiny hair. This chemical free hair oil has no parabens, silicons, and mineral oils, which makes it completely safe to use. One of the most distinct qualities of bhumija hair oil is the smell and the texture of it. The smell of this oil provides an absolut tranquil experience which gives a very soothing effect. 
Natural Ingredients:


Bhumija, an ayurvedic hair oil for hair growth, has 30 natural and ayurvedic herbs sourced from nature. Ingredients such as ashwagandha, mulethi, amla, bhringraj, shatavari, infused with sesame oil, coconut oil, and castor oil, makes the oil 100% natural and safe for your hair. Each ingredient has its own benefits and role to play. Problems such as premature greying, head lice, excessive hair fall, nutritional demands, balding are majorly faced by people which these ingredients together can resolve.
Traditional Formulation:


A traditional formulation suggests that the hair oil is made completely through a natural process with no added chemical and mineral oils. The concentration of each ingredient has been taken with careful consideration of its effects. Bhumija's ayurvedic hair oil has been carefully crafted to ensure that only the required amount of nutrition reaches the scalp and hair follicles, which enhances the whole experience of hair massages. 
Extensive Benefits:


Our special ayurvedic hair oil for hair growth has extensive benefits. It works wonders for enhancing hair growth and the quality of hair. Oils such as castor oil, coconut oil, and sesame oil pumps the dry scalp with moisture and nutrition that regulates and solves the problem of dandruff. Moreover, the majorly faced problem of hair fall can be resolved by the naturally extracted ingredients. The key players involved in reducing hair loss are bhringraj, brahmi, ashwagandha, giloy, red onion, and real jasud flowers. 
How to apply bhumija hair oil for effective results:
To prevent baldness and hair fall, massage your hair with lukewarm oil for 15-20 minutes to assure that the oil penetrates deep into the scalp and gives you a relaxing feel. It is advisable to keep the oil for a few hours or preferably overnight to get the best results. Next, rinse your hair with a mild shampoo and make sure to get the oil completely out of the hair. 
Massaging your hair with Bhumija hair oil will help you relax and get a good night's sleep as the oil has a very natural and earthy smell that calms and relieves tension. The texture of oil is light-weight that makes it easy to penetrate deep into the scalp and reach each and every hair follicle. Along with a pure smell, the colour of the oil is a result of the natural ingredients. When such herbs are put together and infused with cold-pressed oils, a very raw colour is filtered. The colour may change over time but the efficacy of the oil will remain the same. Overall, the oil aims at holistically providing you with an experience that enhances the quality and health of your hair and is good for your mental health and peace. If you're looking for the best ayurvedic hair oil for hair growth and hair fall, then Bhumija is the one for you. We truly believe in regular oiling!
Read More: