What does ayurveda say about hair oiling routine and its benefits 
Posted by Admin Shoonyaakar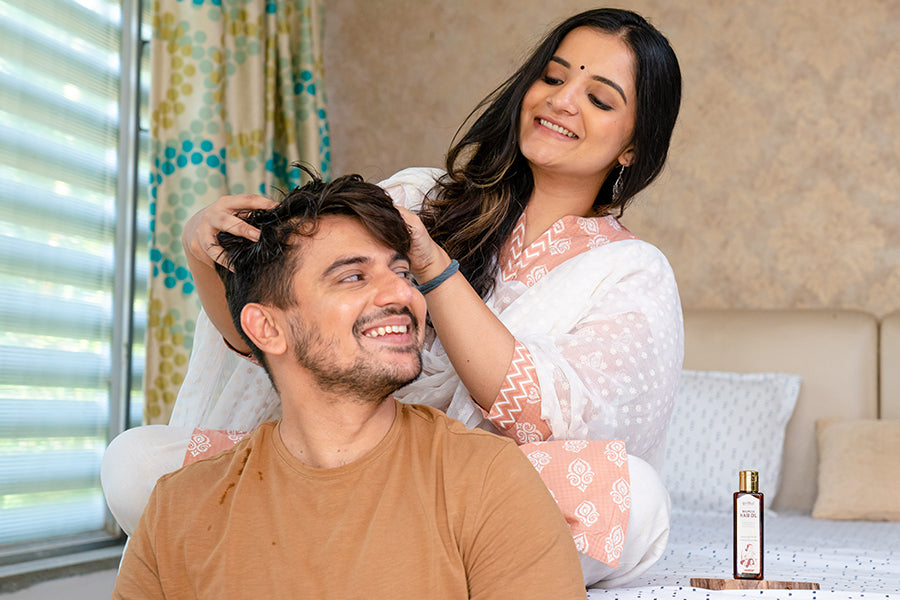 I'm sure your grandmother would've rambled on about the benefits of oiling almost every other day right? The ritual of hair oiling goes back to ancient India, and has been passed down from generations to generations. Ayurvedic hair oil for hair growth has been a go-to for Indians for centuries now. In today's fast paced lifestyle, we often forget to care for our hair which results in numerous problems such as hair loss, dandruff, split-ends etc. To maintain a healthy scalp, oiling on a regular basis plays a crucial role. Moreover, a nice head massage is said to reduce stress and help you relax. 
Following are few hair oiling benefits:
Encourages hair growth
One of the key advantages of oiling your hair is that it promotes hair growth. Massaging your hair with a chemical free hair oil every alternate day for 20 minutes is proven to improve blood circulation. For better results, it is advised to use oils which are extracted naturally. Presence of ingredients such as  sesame oil, castor oil, amla, ashwagandha,etc.are known to benefit the scalp, strengthen the hair follicles and encourage hair growth. Hair oiling routine provides sufficient nourishment for the hair as well as optimal nutrient supply to the scalp. These advantages of using hair oil finally result in increased hair growth and healthy hair quality. 
Scalp Nourishment 
Our hair and scalp lose water density as a result of continual environmental exposure to heat, UV rays, dust and pollens, which can lead to issues like dry and damaged  hair and, in some circumstances, excessive hair fall. Regular hair oiling with cold-pressed oil can easily prevent this, as it is rich in nutrients and vitamins. Being a rich source of vitamins helps in restoring the nutritional value of the scalp. Hair oil applied thrice a week, kept overnight and washed thoroughly the next day helps keep your scalp clean and nourished. This is one of the most significant advantages of oiling.
Strengthens hair roots 
Oiling hair exfoliates the accumulated dirt and removes the harmful toxins from your hair when applied to the scalp. Massaging your hair with fingertips helps the oil absorb easily deep into the roots. This helps in removing parasites and lices from hair follicles and strengthens the roots. Additionally, using hair oil replaces the lost proteins and lipids which makes hair look healthy and shiny. Inculcating a hair oil routine for hair growth has been considered as the most viable options for healthy hair growth. 
Protects hair from heat damage
Nowadays, people have a habit of using heat tools whenever they are in a hurry. Treatments such as blow dry, keratin, straightening,etc., damage the quality of hair drastically.  When individuals blow-dry their hair, it becomes incredibly brittle and delicate. The oil produces a cooling effect which absorbs the heat, and acts as a protective barrier for the hair shaft by coating it. Avoiding these tools and oiling regularly can restore the quality of hair.
What does ayurveda say about hair oiling?
Vata , Pitta, and Kapha are the three doshas present in a human body. These doshas are life-enriching energies, thus deficit or excess in any of these three would disturb the balance of the entire functioning of the human body. An excess of these can severely impact your hair as well. 
Hair oiling, according to ayurveda, is a rejuvenation tool that balances out the excessive doshas, and deals with issues caused by the presence of negative doshas such as dandruff, premature graying, hair fall, and stress automatically by resolving them. 
Added advantages of oiling are strengthening hair roots, nourishment to the scalp, regrowth of hair, protection from sun, dust particles and UV rays. Massaging with ayurvedic hair oil enhances blood circulation from the neck and head area, thereby reducing stress levels. 
How to use ayurvedic hair oil? 
Following proper steps to apply hair oil is really helpful to let the oil absorb deep into the roots and gain the maximum benefit out of it. The steps are enlisted below:
Warm the Oil: Hair oil works wonders when warm as it penetrates deep into the scalp. It leaves the person with an extremely relaxed feeling and boosts blood circulation. The warm nature of oil is said to enhance the

agni

component of the body which improves the metabolism of hair follicles cells, thereby promoting regrowth. 

Partition the hair: Make sure you partition your hair into 4 parts (can vary according to the volume of hair). This would ensure that the oil reaches to each strand of the hair. This is really important as it lets the oil evenly distribute throughout the scalp.

Massage: using your finger tips, massage your scalp with warm oil for 15-20 minutes. Massaging in circular motions would make you feel at ease. Make sure you gently massage your scalp to avoid hair breakage and cover all the 4 partitions of hair thoroughly. 
Is ayurvedic hair oil effective ?
Backed by ancient science and extensive research, ayurvedic oils have always been a part of India's ancient history. Existence of these oils dates back to more than thousands of years. The reason behind this long survival rate is the purity of these oils. Extracted completely from nature using herbs, ayurvedic oils can benefit your hair like no other. Its raw and traditional formulation consisting of herbs such as bhringraj, ashwagandha, brahmi, coconut oil, sesame oil and amla is packed with abundant nutrients. Oils such as sesame, almond, and coconut are considered to be best cold pressed oils for hair. A 100% natural formulation means that there is no space for toxins and chemicals that can deteriorate the quality of hair. Talking about the effectiveness of ayurvedic oils, it is highly recommended to use products which are completely natural. In our opinion, inculcating ayurvedic oils in your regimen is a 100% safe and sound decision. Considering the hasty lifestyle where hair care is just not the priority, ayurvedic oils would absolutely fit in your routine like a glove. Post covid people have started realizing the importance and value of ayurveda science, hence a shift to such natural products have been a major-go-to for families. It is effective, reliable and a hair care solution to swear by. 
Which is the best ayurvedic hair oil for hair growth?
Looking for something completely cautious? Well, Bhumija hair oil is the solution. Bhumija hair oil is a traditional formulation, with 30 essential ayurvedic herbs and cold-pressed oil. The recipe of Bhumija has been passed down from generations which makes it reliable. It is an ayurvedic hair oil for hair growth, and aims to reduce hair fall and dandruff. This chemical free hair oil is filled with nutritional properties. Free from parabens, silicons, mineral oils, and preservatives, Bhumija hair oil is 100% natural and safe to use. It can fit perfectly in your hair oil routine. 
With a market of flourished alternatives, it is really important to choose the correct product for your hair.  It is advised to choose something that is natural and beneficial to your hair, with minimal side effects. The way to do this is through research and awareness. Awareness about your hair type, what suits your hair, and the type of products you wish to choose. Choosing a product is more than just blindly trusting the brand name, it goes beyond that. It is about catering your hair care needs. The ingredients, formulation, presence of chemicals, texture, smell, all of these factors play a key role.
Read More: